We marketers like to borrow concepts from our more technical counterparts. Technical people started using agile development, so marketers started using agile too. Technical people held scrums, and marketers felt left out and so we had our scrums too. Technical people had fun acronyms to describe their "stacks", like LAMP, and marketers were like…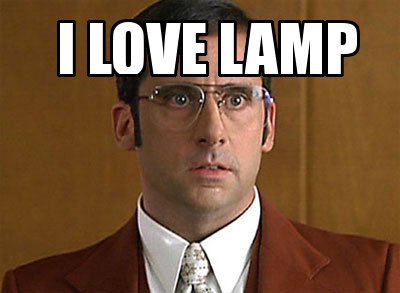 Today's blog discusses the marketing technology "stack" specifically for top MSP websites. We'll discuss which analytics tools, content management systems, web hosting providers, web frameworks, and business app suites are being used by the most successful MSPs.
A random sample of 50 MSP websites from CRN.com's Elite 150 was chosen for analysis. These 50 websites were run through www.builtwith.com to gather data about the which technologies were being utilized most frequently. In the highlights given below, you'll see some familiar names, and some surprising results.
Most Popular Analytics Tools for MSPs
Overwhelmingly, Google Analytics is the most popular analytics tool for MSPs, with 47 results out of 50 companies (94%):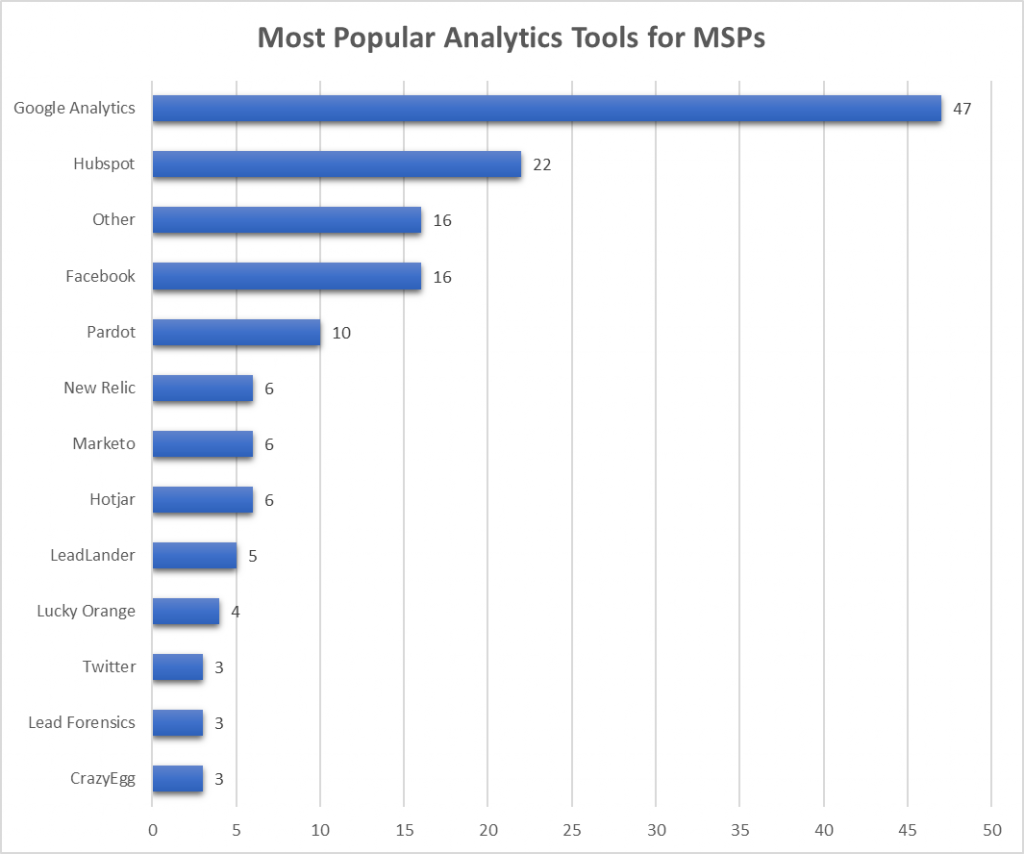 Google Analytics is used by the vast majority of MSPs for good reason: it's free, comprehensive, scalable, and customizable. At eBridge, we recommend Google Analytics and a basic conversion tracking set-up for every client. Out-of-the-box, Google Analytics gives you useful information about your audience and their engagement on your site. For conversion tracking, at a minimum every MSP should track how many people are filling out their Contact Us form. And then there are a myriad of other useful conversions you can track, from Live Chat sessions initiated, to newsletter sign-ups, to phone calls made.
Following Google Analytics, we have HubSpot with 22 results (44%). HubSpot's analytics ties into their marketing automation tools, so you can glean information about how leads in your nurturing program are interacting with your site. Then we have Facebook with 16 results (32%). Facebook's analytics tool is helpful when you are running ad campaigns on Facebook or Instagram, as it allows you to make intelligent decisions about how to define your target audience for ads, and allows you to run remarketing campaigns to serve ads to people who've visited your site.
For more information about marketing measurement for MSPs, checkout our webinar on the topic.
Most Popular Content Management Systems for MSPs
As expected, we see WordPress coming out on top as the most popular CMS, with 69% share (nice):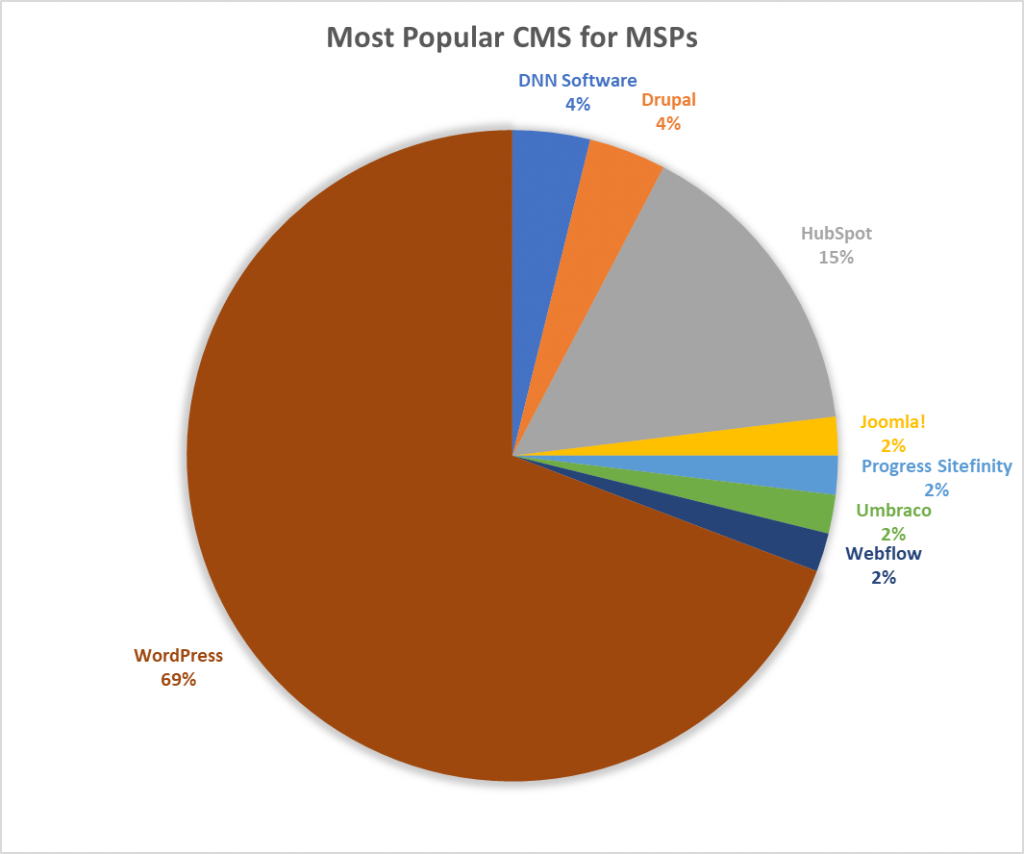 WordPress' popularity owes largely to characteristics it shares with Google Analytics: it's free, comprehensive, scalable, and customizable. As a marketer, what I really like about WordPress is that it lets me do simple stuff independently without having to rely on a web developer all the time. This is a great benefit for MSPs with smaller marketing teams too. Some tech savvy people I known bemoan WordPress as clunky and prone to security issues. I can appreciate WordPress is coded with the needs of many websites in mind and therefore may have unnecessary code for any particular website. And of course, unnecessary code contributes to an increased page load speed, which in theory impacts SEO and the user experience negatively. However, WordPress also has plugins available that help keep the page load speed down in other ways. At eBridge, we tend to recommend WP Rocket for caching, ShortPixel for image compression, and BunnyCDN for a low cost CDN. Utilizing the full trio sets your WordPress site up to load real quickly. The security issues for WordPress are a legit concern as well, as WordPress sites are often the targets of hackers. WordPress sites are targeted for the same reason Windows is targeted more than Linux; it's the choice for unsophisticated users with bad security habits. The security concerns can largely be mitigated with common sense measures like being selective about which plugins to install, keeping plugins up-to-date, keeping WordPress Core up-to-date, and taking regular backups. We highly recommend clients either conduct regular WordPress maintenance themselves or take eBridge up on our monthly WordPress maintenance package.
HubSpot was in second position and was the only alternative CMS with a significant share (15%). HubSpot's CMS has benefits when paired with their marketing automation tools, such as personalizing the site content based on where the visitor is in the sales funnel. It also is even more catered to the needs of marketers than WordPress is, with many templates, drag and drop functionality, and extensive SEO optimizations. The cons of HubSpot CMS are the lack of customization and it's cost will likely be prohibitive for smaller MSPs. It's a good choice for mid-to-large MSPs who've made the decision to invest in marketing for growth. eBridge is a HubSpot agency partner, contact us for help with your HubSpot set-up.
Most Popular Framework for MSPs
ASP.NET is by far the most popular framework for MSP websites, with over three quarters market share (78%):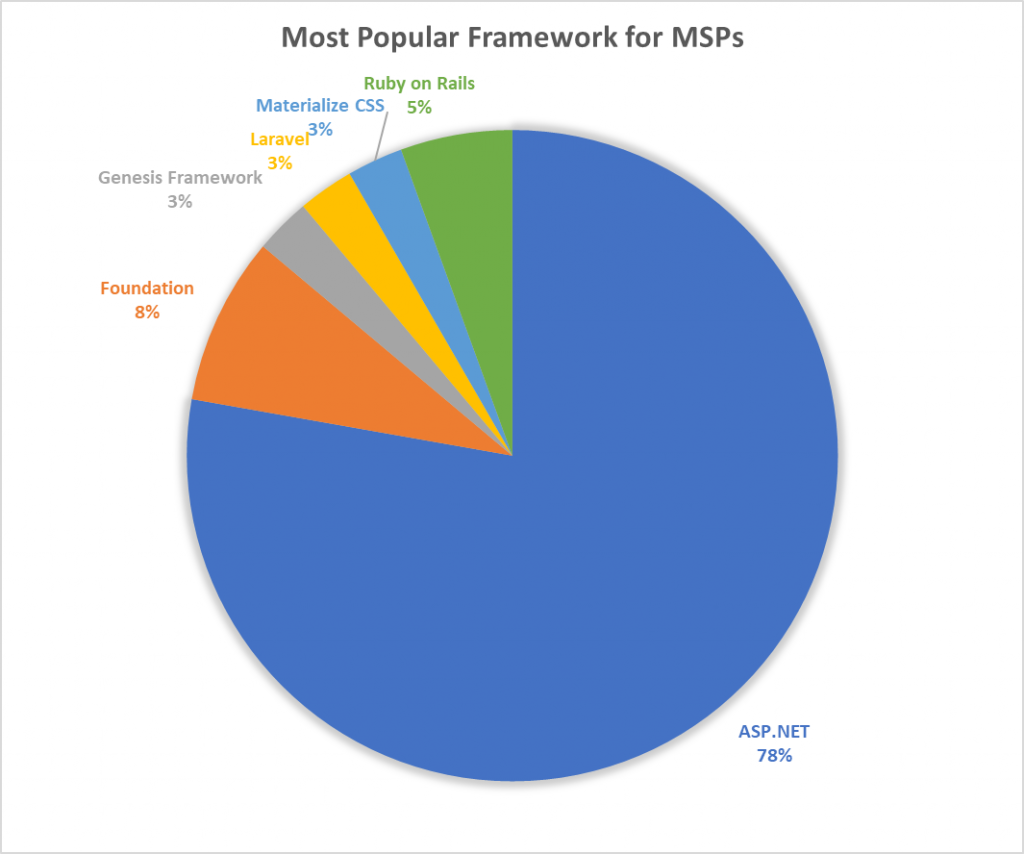 Listen, dear reader, I'm going to level with you. Truth be told, I don't really understand what a "framework" is, nor do I care. I invested five minutes Googling to try to find out, before I got bored and discouraged, and moved on. So I'll spare you my uninformed analysis. I hope you liked the pie chart and got something out of it. If so, please leave a comment below and tell me what it meant to you.
Most Popular Web Hosting for MSPs
By a thin margin, Amazon is the most popular hosting provider for MSPs, with 14% of the share: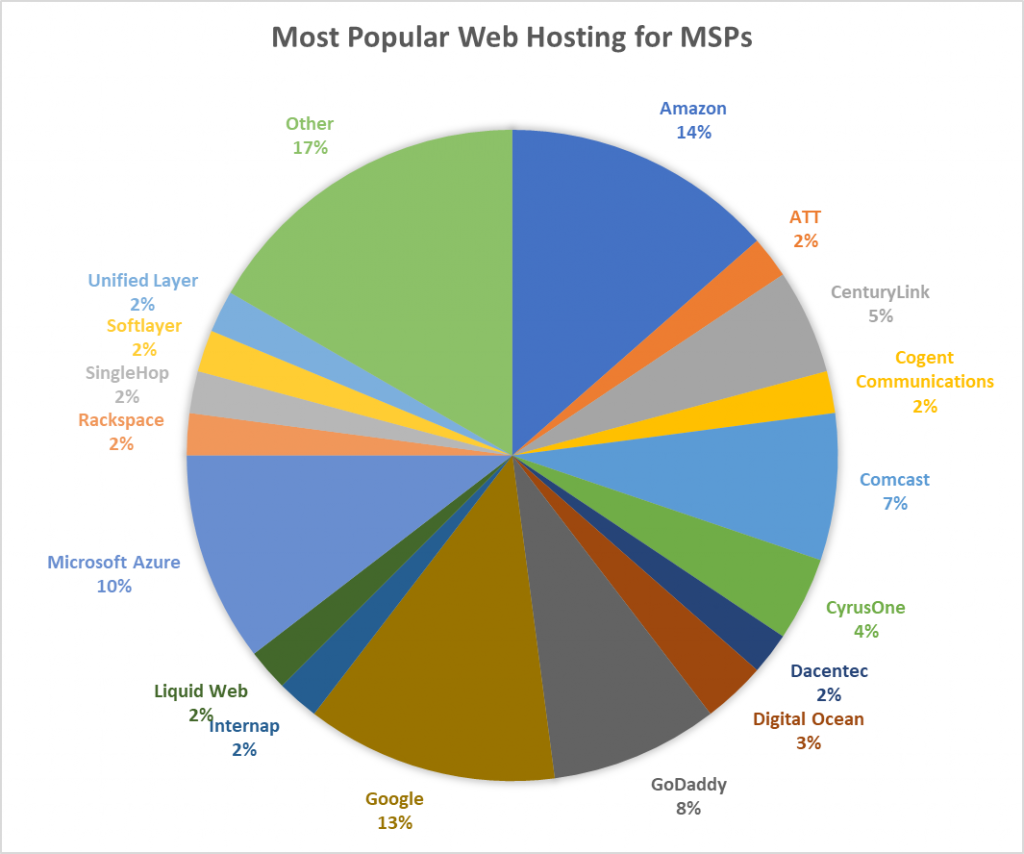 As many readers will be aware, in addition to the MSP vertical, eBridge serves the marketing needs of web hosting companies. In fact we've worked with four of the hosting companies featured in the pie chart above. So I was curious to see how our two worlds would collide in this category of web hosting for MSPs. The main thing that sticks out, is that the split is much more even than the other categories. There are some familiar names at the top of the pile; just trailing Amazon is Google with 13% share, followed by Microsoft Azure with 10% share, and GoDaddy with 9% share. From my experiences helping web hosts with their channel programs, I'm not at all surprised that this market is so competitive and fragmented, as there's no shortage of quality hosts trying their damnedest to make inroads with MSPs (something that is easier said than done, contact eBridge to discuss channel marketing programs).
Most Popular Business Apps for MSPs
The most popular suite of business apps for MSPs is Microsoft 365 with 92% share: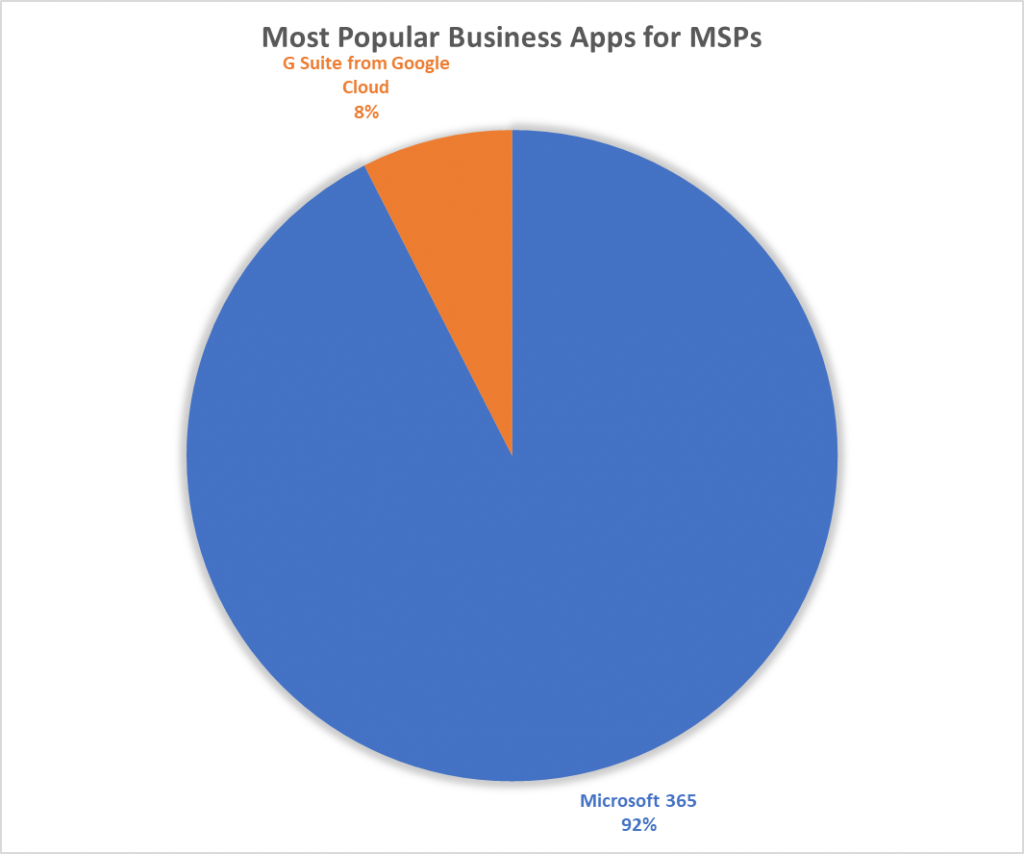 I've seen debate on /r/msp/ about the merits of including G Suite or Microsoft 365 in an MSP's service catalogue, with proponents on both sides, and without a clear consensus. So I wasn't expecting such an overwhelming consensus when it comes to Microsoft 365 being the business suite MSPs choose for internal usage. Frankly, it leads me to believe that many MSPs don't practice what they preach in this regard! But then again it's Reddit, where contrarians are upvoted, and response to the status quo is muted.
---
So there you have it. The most popular marketing technologies for MSPs include WordPress, ASP.NET, Google Analytics, Microsoft 365, and Amazon Web Services…a.k.a. the "WAGMA" stack. Rolls off the tongue, doesn't it?
Contact eBridge today to discuss the ideal marketing technology stack for your Managed Service Provider.