This is part two of a five part series called the eCommerce Hierarchy of Needs.  Part One discussed marketing tactics for very early stage start-ups trying to prove their business concept. This installment is for companies who have proven their concept and determined it worthwhile pursuing and investing in. The biggest need for entrepreneurs at this stage is the basic building block of every eCommerce company — a functional website.
For each tier in the eCommerce Hierarchy of Needs, we look at marketing from the perspective of five important facets:
Customer Experience: How customers interact with your brand and complete purchases.
Reputation: How customers learn your brand is legitimate.
MarTech: How technology aids your marketing efforts.
Search Marketing: How to utilize search to find customers.
Paid Advertising: How to best spend your ad budget.
Tier 2: Functional Website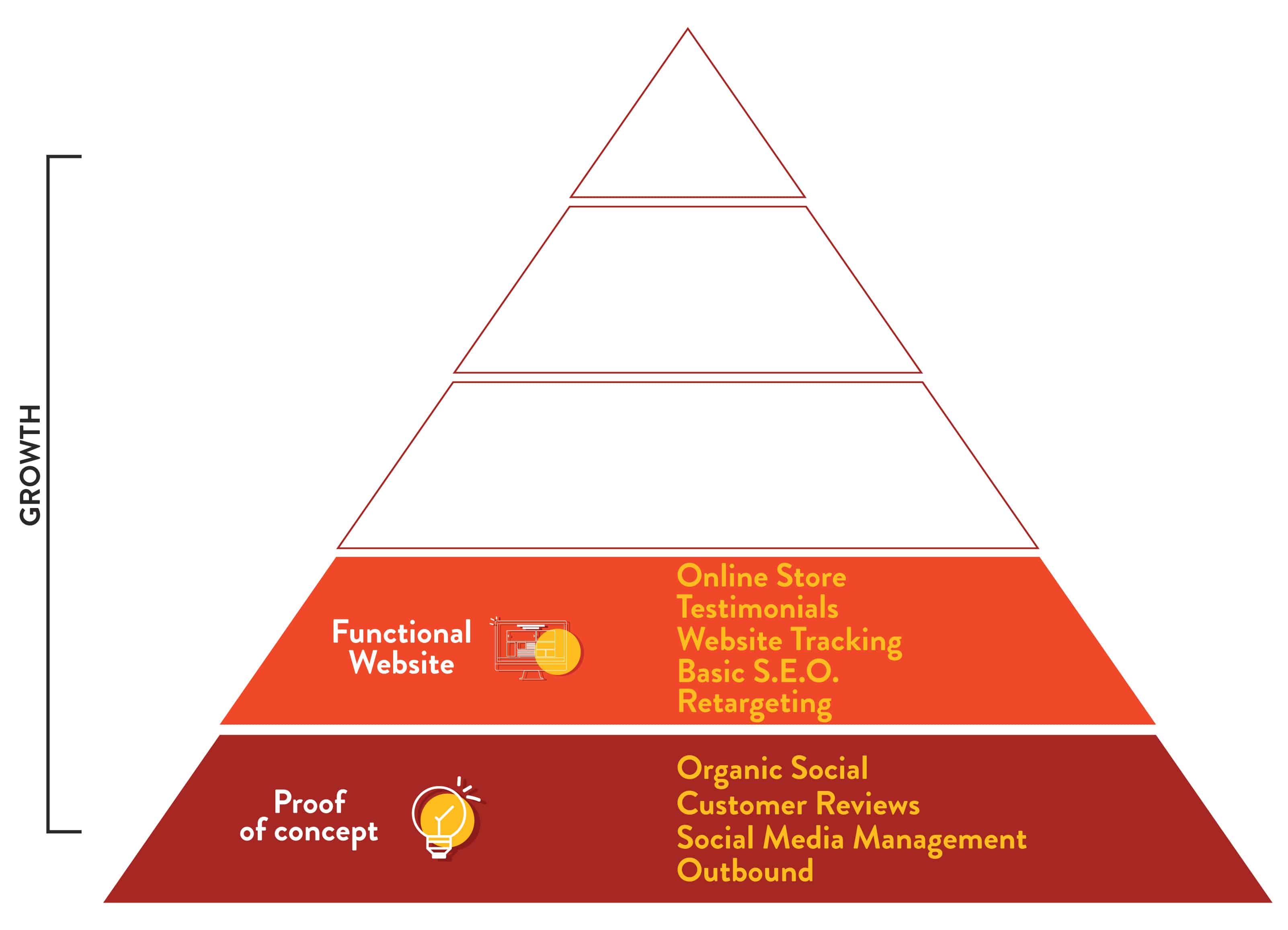 Customer Experience: Online Store
Compared to a Facebook store, taking orders through a website allows for more control over the user experience. There are many ways to go about creating an online store, and the best option is largely dependent on budget and technical aptitude. If you have the skills to create a website with online store yourself, great. If you have the budget to hire a web developer, great (and feel free to contact us). But if you aren't particularly tech savvy and have a limited budget, you can still create a pretty nice online store by investing some time into a website builder tool like Shopify or Squarespace. If you are somewhat tech savvy and have a limited budget, a WordPress website using the WooCommerce plugin is a popular choice. According to BuiltWith, 42% of online stores use WooCommerce. It's fairly easy to use and is more scalable and customizable than a Shopify or Squarespace site.
Reputation: Testimonials
To supplement the customer reviews you've hopefully already gained on social media and elsewhere, add in a testimonials section to your website and find some of your happiest customers to praise your good graces. Make sure they are okay with having their name publicized alongside the testimonials; anonymous testimonials have little to no value.
MarTech: Website Tracking
Any honest marketer will tell you that having proper website tracking in place is essential for online marketing success. Don't spend a dime on digital marketing until you have insight into where your traffic is coming from, what it's doing on your site, and at what rate is it converting. A lot of companies use Google Analytics because it is free, easy to use/implement, and scalable.
Search Marketing: Basic S.E.O.
Make sure you set-up your website with all the basic SEO elements in place (meta descriptions, title tags, site maps, etc.) Also anticipate what types of keywords your future customers will be searching for, and incorporate those into content. You can use a tool like Google Keyword Planner combined with some common sense to produce keyword-dense product pages and blog entries. Two other useful tools are Spyfu and SimilarWeb, both of which are helpful for competitive analysis.
Paid Advertising: Retargeting
Generally speaking, paid advertising isn't cheap and it doesn't make sense to start spending on advertising until you're confident that your website is good-enough to convert at a rate sufficient to achieve a positive ROI. The one exception would be a paid retargeting campaign. Retargeting works by tracking people who've visited your site and serving them ads off-site. Because acquiring new traffic isn't cheap, and your existing website traffic is usually higher quality than traffic you can acquire, it makes sense to try to maximize the revenue from your existing traffic through retargeting. This can be done very cheaply to start off with, as the cost is limited by the amount of traffic your website receives.
Thanks for tuning in! If you are involved in a company who's trying to get established online, I hope this blog has provided some clarity about the marketing activities you should be focusing in on. The next blog in the series will discuss marketing tactics that branch out to reach a small targeted audience.
Questions? Comments? Unfettered criticism? We'd love to hear from you!