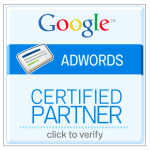 PPC advertising is a great way to attract targeted visitors. It's one of the quickest and most manageable ways to gain traction in search results. By paying for each click, you are able to control who sees your ad, your budget, and your return on investment.
However, it's easy to get lost in the bidding war or suffer from poorly performing campaigns. Tossing PPC onto the plate of someone inexperienced can end in disaster.
Effective campaign management involves a complete understanding of all the nuances of PPC advertising including bidding, budgets, keyword selection, ad copy, landing pages and competitor activity. There's no question that a myriad of factors must be very carefully considered before that ad even gets published.
We have the expertise to help you build, launch, and manage the optimal PPC strategy for your company and ensure that you are putting that budget to use in the most efficient and optimal fashion.  We are a Google Adwords Certified Partner.
Our Process
PPC management is much more than just setting up an account, creating some ads, and letting it run. Instead, it requires a methodology that comes with experience.  Our team develops campaigns that are targeted both to your offering and your customer base, and are managed within a set budget to maximize as many targeted customers as possible.
Some of the things we do include:
PPC Strategy
We customize PPC campaigns around your business, industry, competitors, and target customers.
Keyword Discovery and New Opportunities
We research and identify the most focused keywords that visitors are searching for. We also compare your offering to competitors and help determine where you can best compete.
Campaign Creation
We create different groups of keywords to help target different offerings and focus the ads to promote your specific services and products. We also target customers based on serviceable reach such as location, negative keywords, broad and exact matches among many other factors.
Management and Optimization
PPC management is not a set it and forget it tactic. Ongoing management is key and we're always looking for ways to fine tune bids, keywords, ad groups and other campaign elements. We also share landing page optimization opportunities. Essentially, we're constantly on the lookout for ways to improve your ROI, eliminating waste and searching for new opportunities.
Measurement
As we mentioned above, we're constantly focused on optimization to maximize traffic and budget, gain reach, and grow ROI. Careful measurement allows us to do just that. We also work with your team to ensure tracking is functioning properly.
Want more information?
Click to view our FAQs.
PPC Management Brochure
Whether you need support around streamlining your landing pages, bid management or Adwords creation, let our expertise help you make the most of your PPC efforts. We can help you achieve your PPC goals.
"Genuine and professional"
We needed expertise in a few areas to help us deploy a special project and decided to work with eBridge to supplement our own marketing team. They had resources with the skill sets that we needed and enabled us to execute the campaign without bringing on full time headcount, assisting us with online display, Google AdWords and retargeting. eBridge not only delivers results and metrics, but they back these up with easy-to-read reports with charts, explanations and recommendations. This allows us to quickly assimilate the data and make decisions. They're genuine, professional, and a pleasure to work with.
Elisabeth Kurek, Marketing Director
Verio, Inc.